Quickie Anyone ? Copper King by Vivian Arend
Copper King (Takhini Shifters #1)
Three things make billionaire Jim Halcyon's to-do list: women, work…and more women. It's a perfect agenda for a rich shifter who has no problem letting his inner grizzly out to play. From the bright lights of Vegas, to the sophisticated action of New York—he's got the money and the power to do anything he wants.
Anything, except resist the lure of Lady Luck, an ancient copper coin he gambles yearly to possess. Jim is determined to regain control of the pretty penny, and damn if he'll let any bit of eye candy distract him from his goal. Not even the mesmerizing woman in the middle of the casino floor with the shimmering hair and enormous green eyes.
With a life-changing move ahead of her, Lillie's finagled a temporary layover en route to her future. She's got five days to soak in new experiences, and while Vegas is too big and shiny and loud for her shy bear self, she's eager to do this up right. It's the last chance she's got to let her hair down.
Until his challenge begins, Jim is more than willing to oblige Lillie's wish for a final fling. Only Lady Luck has some twists of fate planned for them both…
Quickie Anyone??
I normally am not a fan of novellas, I prefer longer reads with the time to develop and become invested in the characters and their world however if it's fast paced, well written and hot then I'll fit a quickie in!
For those who don't know, "quickie" is the term given to a sexual romp that is exactly that – quick. It is to the point, exciting and usually quite intense. And it's often more animalistic and lust-driven than regular 'romantic' sex.
'Copper King' is shifters so the animalistic and lust driven is pretty much a given but as it's also a Vivian Arend you know it will be fast, furious, hot as fuck and leave you satiated and happy……
Ms Arend delivers as usual with the story of Jim and Lillie, they are just perfect together from the very first meeting and even though it's a novella the author manages to tell a sweet, romantic story with a sensual erotic touch that will satisfy every parawhore out there with a soft spot for a good shifter story. Jim is a grizzly bear so ** swoon ** he's a large alpha shifter more than capable of sweeping a shy black bear off her feet and into his bed. Keeping her there may not be as easy! But an interesting twist made for a satisfying and surprising ending.
Damon (Jim's BF) was fabulous comic relief, this combined with a flowing story, some hot steamy scenes and a couple you can't help but love and 'Copper King' was a winner for me.
~ Rebecca ~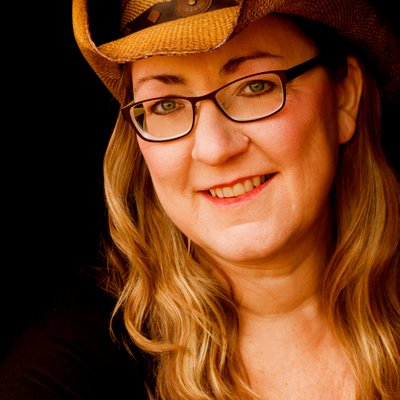 Vivian Arend in one word: Adventurous. In a sentence: Willing to try just about anything once. That wide-eyed attitude has taken her around North America, through parts of Europe, and into Central and South America, often with no running water.
Her optimistic outlook also meant that when challenged to write a book, she gave it a shot, and discovered creating worlds to play in was nearly as addictive as traveling the real one. Now a New York Times and USA bestselling author of over 30 novels and short stories in both contemporary and paranormal genres, Vivian continues to explore, write and otherwise keep herself well-entertained.
She loves to hear from readers- vivarend@gmail.com You can also drop byhttp://vivianarend.com for more information on what is coming next.
About Book Loving Pixies
We live to read!!! Our favourite genre is PNR - yep, we are more than happy to admit that we are complete #parawhores...... saying that, we will read and review a real mix of genres - from the better known authors to new-to-us authors and everything in between. We hope you like our posts/reviews and enjoy our blog. Thanks for stopping by our site!!!