THE VIPER (UNTAMED HEARTS#1) BY KELE MOON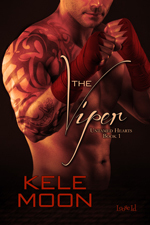 THE VIPER (UNTAMED HEARTS #1)
KELE MOON 
Marcos Rivera is a fighter. A gang member. Someone who has seen the dark side of humankind and survived. He has lost family and gained enemies. He has stolen cars and destroyed hearts, stripping one for money and the other for pleasure. His past is haunted and his future is bleak.
Until her.
Katie Foster is a high school history teacher. Smart, strong, and sexy. She is a woman Marcos shouldn't want. Shouldn't touch. Shouldn't love. He met her in Garnet, a backwards, hick town that's the last place in the world he wants to be, but he finds himself going back for a taste of the forbidden.
Katie represents all that is good in the world, and Marcos knows he's nothing but trouble for her perfect life. He fights and he screws. He commits crimes and he breaks the rules. He will never change and he will never escape his gang lifestyle.
Or can he?
What happens when two different people from two very different walks of life risk it all by giving into the passion that threatens to consume both of them? Can a woman who only knows how to play it safe give her heart to a man who lives hard and loves harder?
Will she survive The Viper?
THE UNTAMED HEARTS SERIES
BOOK I   THE VIPER – MARCOS
BOOK 2  THE SLAYER – CHUITO
BOOK 3  THE STALLION – TINO 
BOOK 4  THE BOSS – NOVA 
MY REVIEW ~ REBECCA 
MY NAME IS REBECCA AND I AM A BOOK SLUT.
FEEDING MY HABIT TODAY IS KELE MOON.
AND I HAVE GORGED MYSELF……………….
AY DIOS MIO!
Marcos, Chuito, Tino and Nova
HOW THE HELL IS A GIRL TO CHOOSE?
#GREEDYBITCH
I REFUSE TO, I WANT THEM ALL……………
WHEN IT COMES TO WRITING THE BAD BOYS WE LOVE TO TAME, KELE MOON DOES SOME OF THE BEST. A WHILE BACK I READ HER 'BATTERED HEARTS' SERIES ON A FRIENDS RECOMMENDATION AND LOVED ALL THREE BOOKS. SHE HAS A WAY WITH THESE ROUGH, TOUGH, LOYAL, STRONG AND OH SO SEXY ALPHAS.
#PANTYTSUNAMI
'THE VIPER' IS A HOT, SEXY, SPANISH DIRTY TALKING BORICUA (LOOK UP THE TERM IN THE STREET SLANG GUIDE AT THE BACK OF THE BOOK!) CALLED MARCOS.
A FIGHTER AND GANG MEMBER WHOSE PAST IS HAUNTED AND FUTURE IS BLEAK.
UNTIL HER.
KATIE.
A SCHOOLTEACHER.
KATIE REPRESENTS ALL THAT IS GOOD IN THE WORLD, AND MARCOS KNOWS HE'S NOTHING BUT TROUBLE FOR HER PERFECT LIFE. HE FIGHTS AND HE SCREWS. HE COMMITS CRIMES AND HE BREAKS THE RULES.
WHAT HAPPENS WHEN THEIR WORLDS LITERALLY COLLIDE?
CAN TWO PEOPLE TAKE THE BEST FROM EACH OTHER AND MAKE A LIFE WHEN THOSE WORLDS ARE POLES APART?
THIS IS NOT JUST ANOTHER FIGHTER ROMANCE, THIS IS ONE OF THE BEST ~ PURE HOT ALPHA SEXY MAN, REALLY WELL WRITTEN WITH A HEROINE NOT AFRAID TO STEP OUT OF HER COMFORT ZONE AND GO AFTER WHAT SHE WANTS. THE SECONDARY CHARACTERS, THE BANTER AND HUMOUR ARE LAUGH OUT LOUD AT POINTS. TIA SOPHIA IS FABULOUS, WYATT IS STILL, WELL WYATT!  AND I WANT TO BE THE FILLING IN A CHUITO AND NOVA SANDWICH.
#BOOKSLUTANDPROUD
THIS SERIES IS A SPIN OFF FROM THE 'BATTERED HEARTS' SERIES AND THIS FIRST BOOK PROMISES VERY GOOD THINGS FOR THE REST. YOU CANNOT HELP BUT BE DRAWN TO HER MEN, WANT TO RESCUE AND SAVE THEM AND DO DIRTY, DIRTY THINGS WITH AND TO THEM.
I CANNOT WAIT FOR THE SLAYER – CHUITO`S STORY !
IF YOU LOVE HARPER SLOAN, ELLE KENNEDY AND/OR KATY EVANS THEN GIVE KELE MOON A TRY, SHE WON'T DISAPPOINT.
P.S.  MAKE SURE YOU READ THE SPANISH GUIDE AT THE END, IT'S HILARIOUS AS WELL AS INFORMATIVE AND I PROBABLY SLAUGHTERED THE COUPLE OF WORDS I USED IN HERE, SO MY APOLOGIES KELE!!
AUTHOR BIO
A freckle-faced redhead born and raised in Hawaii, Kele Moon has always been a bit of a sore thumb and has come to enjoy the novelty of it. She thrives on pushing the envelope and finding ways to make the impossible work in her story telling. With a mad passion for romance, she adores the art of falling in love. The only rules she believes in is that, in love, there are no rules and true love knows no bounds.
So obsessed is she with the beauty of romance and the novelty of creating it, she's lost in her own wonder world most of the time. Thankfully she married her own dark, handsome, brooding hero who has infinite patience for her airy ways and attempts to keep her grounded. When she leaves her keys in the refrigerator or her cell phone in the oven, he's usually there to save her from herself. The two of them now reside in Florida with their three beautiful children, who make their lives both fun and challenging in equal parts—they wouldn't have it any other way.
LINKS TO KELE 
About Book Loving Pixies
We live to read!!! Our favourite genre is PNR - yep, we are more than happy to admit that we are complete #parawhores...... saying that, we will read and review a real mix of genres - from the better known authors to new-to-us authors and everything in between. We hope you like our posts/reviews and enjoy our blog. Thanks for stopping by our site!!!